Background
Cluster headache (CH), also known as histamine headache, is a primary neurovascular headache disorder, the pathophysiology and etiology of which are not well understood. [1] As the name suggests, CH involves a grouping of headaches, usually over a period of several weeks. According to the diagnostic criteria developed by the International Headache Society (IHS), CH has the following characteristics: [2, 3]
The patient experiences attacks of severe or very severe, strictly unilateral pain (orbital, supraorbital, or temporal pain) that last 15-180 minutes and occur from once every other day to 8 times a day

The attacks are associated with 1 or more of the following (all ipsilateral): conjunctival injection, lacrimation, nasal congestion, rhinorrhea, forehead and facial sweating, miosis, ptosis, or eyelid edema
CH may be usefully classified into 2 main forms as follows:
Episodic CH, in which at least 2 cluster phases lasting 7 days to 1 year are separated by a cluster-free interval of 1 month or longer

Chronic CH, in which the clusters occur more than once a year without remission or the cluster-free interval is shorter than 1 month
Pathophysiology
The underlying pathophysiology of CH is incompletely understood. [4, 5] The periodicity of the attacks suggests the involvement of a biologic clock within the hypothalamus (which controls circadian rhythms), with central disinhibition of the nociceptive and autonomic pathways—specifically, the trigeminal nociceptive pathways. Positron emission tomography (PET) and voxel-based morphometry have identified the posterior hypothalamic gray matter as the key area for the basic defect in CH. [1] See the images below.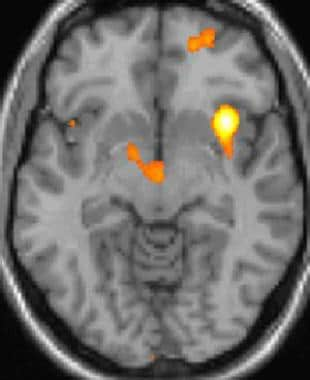 Cluster headache: Functional imaging shows activation of specific brain areas during pain. Courtesy of Wikipedia Commons.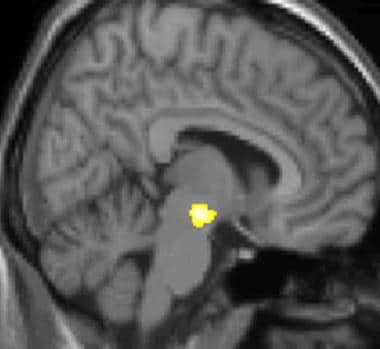 Cluster headache (CH): Voxel-based morphometry (VBM) structural imaging shows specific brain area of CH patients' (hypothalamus) being different to non-CH patients' brains. Courtesy of Wikipedia Commons.
Altered habituation patterns and changes have been observed within the trigeminal-facial neuronal circuitry secondary to central sensitization, in addition to dysfunction of the serotonergic raphe nuclei-hypothalamic pathways (though the latter is not as striking as in migraine). Functional hypothalamic dysfunction has been confirmed by abnormal metabolism based on the N-acetylaspartate neuronal marker in magnetic resonance spectroscopy. [6]
Substance P neurons carry sensory and motor impulses in the maxillary and ophthalmic divisions of the trigeminal nerve. These connect with the sphenopalatine ganglion and interior carotid perivascular sympathetic plexus. Somatostatin inhibits substance P and reduces the duration and intensity of CH.
Vascular dilatation may play a role in the pathogenesis of CH, but blood flow studies are inconsistent. Extracranial blood flow (hyperthermia and increased temporal artery blood flow) increases, but only after the onset of pain. Vascular change is considered secondary to primary neuronal discharge.
Although the evidence supporting a causative role for histamine is inconsistent, cluster headaches may be precipitated with small amounts of histamine. Antihistamines do not abort cluster headaches. Increased numbers of mast cells have been found in the skin of painful areas of some patients, but this finding is inconsistent.
Etiology
The exact cause of CH is unknown. The disorder is sporadic, though rare cases of an autosomal dominant pattern within a single family have been reported.
Several factors have been shown to provoke CH attacks. Subcutaneous injection of histamine provokes attacks in 69% of patients. Stress, allergens, seasonal changes, or nitroglycerin may trigger attacks in some patients. Alcohol induces attacks during a cluster but not during remission. About 80% of CH patients are heavy smokers, and 50% have a history of heavy ethanol use.
Risk factors for CH include the following:
Small amounts of vasodilators (eg, alcohol)

Previous head trauma or surgery (occasionally)
Epidemiology
The exact prevalence of CH in the United States is unknown; Kudrow estimated it to be 0.4% in men and 0.08% in women. [7] Compared with classic migraine, CH is relatively uncommon, with an incidence equivalent to only 2-9% of that of migraine. Prevalence in males is 0.4-1%. In an extensive study of 100,000 inhabitants of the republic of San Marino, the prevalence was 0.07%. The incidence of CH in the United Kingdom is equivalent to that of multiple sclerosis.
Age-, sex-, and race-related demographics
CH usually begins in middle adult life (eg, in the 30s); however, it has been reported in patients as young as 1 year and as old as 79 years.
CH is more common in males than in females; the male-to-female ratio was 6:1 in the 1960s but is now closer to 2:1. Presentations in females may differ from those in males, according to data from the United States Cluster Headache Survey. [8] For example, women tend to develop CH at an earlier age and are also more likely to exhibit a second peak of CH incidence after the age of 50.
Racial and ethnic differences have not been well studied, but CH may be slightly more prevalent in African Americans and may be underdiagnosed in black women.
Prognosis
Generally, CH is a lifelong problem. Potential outcomes include the following:
Possibility of transformation of an episodic cluster to a chronic cluster and vice versa
About 80% of patients with episodic CH maintain the episodic form of the disorder. In 4-13%, episodic CH eventually transforms into chronic CH. Intermediate (mixed) forms may also develop. Prolonged, spontaneous remissions occur in as many as 12% of patients, particularly in those with episodic CH. Chronic CH is more relentless and may persist in this form in as many as 55% of cases. Less frequently, chronic CH may remit into an episodic form.
No reported mortality is directly associated with CH. However, patients with CH are at increased risk for self-injury during attacks, suicide attempts, alcohol use (and other forms of substance abuse), cigarette smoking, and peptic ulcer disease. Suicides have been reported in cases where attacks are frequent and severe. The intensity of the attacks often leads CH patients to miss time from activities such as work or school. Medications used may have side effects, including the unmasking of coronary artery disease.
Pharmacologic intervention may play a part in the transformation of chronic CH into the episodic form; otherwise, it does not influence outcome. Late onset of the disorder, male sex, and previous episodic CH all predict a less favorable course.
Patient Education
Patients should be educated regarding the need to avoid known precipitants of CH. In addition, they should be instructed to avoid high altitudes.
History
Attacks of cluster headache (CH) are typically short and occur with a clear periodicity, particularly during sleep or early morning hours, usually corresponding with onset of rapid eye movement (REM) sleep. [5, 9] Unlike migraine, CH is not preceded by aura and is not usually accompanied by symptoms such as nausea, vomiting, photophobia, or osmophobia. Typically, a patient experiences 1-2 cluster periods per year, each lasting 2 weeks to 3 months.
The International Headache Society (IHS) classifies CH as episodic or chronic on the basis of duration as follows [3] :
Episodic CH occurs in periods lasting from 7 days to 1 year; cluster attacks are separated by pain-free intervals at least 1 month long

Chronic CH persists for more than 1 year either without remission or with remissions shorter than 1 month; it is further divided into 2 subcategories, chronic CH from onset and chronic CH evolving from episodic CH
The pain of CH is manifested as follows:
Character - Excruciating, stabbing, sharp, and lancinating (as if the eye is being pushed out), rather than throbbing

Location – Unilateral, in the periorbital, retro-orbital, or temporal regions, though pain sometimes radiates to the cheek, jaw, occipital, and nuchal regions; the pain tends to remain on the same side during the cluster period but in rare cases may switch sides

Distribution - First and second divisions of the trigeminal nerve; approximately 18-20% of patients complain of pain in the extratrigeminal areas (eg, the back of the neck, along the carotid artery)

Onset – Sudden, peaking in 10-15 minutes

Duration - 5 minutes to 3 hours per episode

Frequency - May occur 1-8 times a day for as long as 4 months (often nocturnal)

Periodicity - Circadian regularity in 47%

Remission - Long symptom-free intervals occur in some patients; the length of these remissions averages 2 years but may range from 2 months to 20 years
Pain is accompanied by various cranial parasympathetic symptoms, including the following [5] :
Ipsilateral lacrimation (84-91%) or conjunctival injection

Nasal stuffiness (48-75%) or rhinorrhea

Ipsilateral miosis or ptosis

Ipsilateral forehead and facial perspiration (26%)
Alcoholic products and tobacco may precipitate an attack. Other triggers include hot weather, watching television, nitroglycerin, stress, relaxation, extreme temperatures, glare, allergic rhinitis, and sexual activity.
During an attack of CH, as many as 90% of patients may become agitated and extremely restless. They do not like to lie down to rest; instead, they prefer to pace or move around. In desperation, patients may rock, sit, pace, bang themselves against a hard surface, scream in pain, or crawl on the floor.
Structural lesions have been described with CH and should be suspected if the presentation is atypical. Atypical features may include the following:
Absence of a periodic pattern

Residual headache between exacerbations

Incomplete or minimal response to standard therapy

Presence of lateralizing findings on examination (other than Horner syndrome)
Physical Examination
Physical examination findings should be normal, except for certain findings that serve as hallmarks of CH. These accompanying findings are consistent with ipsilateral autonomic features characterized by cranial parasympathetic activation and sympathetic hypofunction. The presence of other abnormalities suggests another etiology for the headache.
Characteristic findings include the following:
Distinctive facial appearance - Leonine facies, multifurrowed and thickened skin with prominent folds, a broad chin, vertical forehead creases, and nasal telangiectasias

Parasympathetic overactivity - Ipsilateral lacrimation, conjunctival injection, rhinorrhea or congestion

Ocular sympathetic paralysis - Mild Horner syndrome (eg, ptosis, miosis, and anhidrosis), which may persist between attacks

Facial flushing or pallor

Scalp and facial tenderness

Ipsilateral carotid tenderness (in some patients)
Patients often are in severe distress. They may lower the head and press on the site of pain, sometimes crying or screaming. Physical exercise may afford a degree of relief. In cases of especially severe or intolerable pain, patients may even threaten suicide.
Diagnostic Considerations
In addition to the conditions listed in the differential diagnosis, other problems to be considered include the following:
Acute hypertension (including response to pressors, pheochromocytoma, and preeclampsia)

Arteriovenous malformations

Cerebral venous thrombosis [10]

Connective tissue disorder (eg, systemic lupus erythematosus)

Eye disorders (eg, acute optic neuritis and acute glaucoma)

Hemicrania (continual or paroxysmal)

Interior carotid artery dissection

Intermittent hydrocephalus

Metastatic lung carcinoma

Malignant and nonmalignant pain syndromes

Medication adverse effect

Raeder paratrigeminal syndrome

SUNA (short-lasting unilateral neuralgiform headache attacks with cranial autonomic symptoms)

SUNCT (short-lasting unilateral neuralgiform headache attacks with conjunctival injection and tearing)

Vertebral artery aneurysm
Differential Diagnoses
Headache: Pediatric Perspective

Herpes Zoster
Approach Considerations
The diagnosis of cluster headache (CH) is based on historical and physical findings. A history of attacks that occur with the characteristic periodicity and rhythmicity is the key to the diagnosis. Laboratory studies are not of particular value in this regard.
Imaging studies, though not diagnostic, are useful for excluding other potential causes of headache in selected patients. Neuroimaging with assessment of the intracranial and cervical vasculature and the sellar and paranasal region is recommended in all patients with atypical presentations of trigeminal autonomic headaches.