Background
Dental fractures are commonly observed with other oral injuries. Early recognition and management can improve tooth survival and functionality. Approximately 82% of traumatized teeth are maxillary teeth. Fractures to the maxillary teeth are distributed among the central incisors (64%), lateral incisors (15%), and canines (3%). See the image below.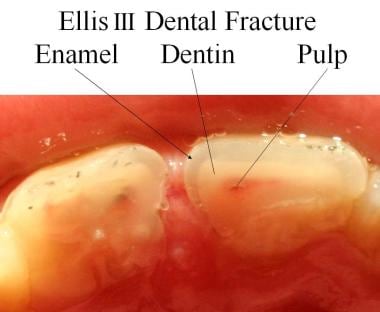 Cross section of an Ellis III dental fracture.
Pathophysiology
The typical cause is severe force to the teeth sufficient to disrupt the enamel, dentin, or both of a tooth. In a study of 1610 children, predisposing factors included postnormal occlusion, an overjet exceeding 4 mm, a short upper lip, an incompetent lip, and mouth breathing.
Epidemiology
Frequency
United States
More than 50% of physical trauma in child abuse occurs in the head and neck region.
International
In a study conducted in Sweden, approximately 7% of all physical injuries involved the oral cavity. In patients aged 0-19 years, 9% of injuries involved the oral cavity. During the Korean War, 3000 maxillofacial injuries occurred.
Mortality/Morbidity
Trauma to the teeth is not life threatening; however, associated maxillofacial injuries and fractures can compromise the airway. In trauma with mandibular fracture, the teeth in the upper jaw may be at higher risk than teeth in the lower jaw. [1] Morbidity to the teeth may be individualized to primary and permanent teeth. Fractures are more common in permanent teeth; primary teeth usually become displaced.
Primary teeth - Failure to continue eruption, color changes, infection, abscess, loss of space in the dental arch, ankylosis, injury to the permanent teeth, abnormal exfoliation

Permanent teeth - Color changes, infection, abscess, loss of space in the dental arch, ankylosis, resorption of root structure, abnormal root development
Sex
The male-to-female ratio is 2-3:1.
Age
The average age of injury varies. In youths, falls and sporting activities account for most injuries. In later teenaged years, motor vehicle collisions (MVCs) account for most injuries.
CLINICAL PRESENTATION
History
See the list below:
Different physical and clinical findings present depending on where the tooth is fractured. Note the fracture's extent and the patient's age. The Ellis classification has been designed for evident fractures.

Ellis I fractures involve only the enamel; these injuries may show minor chipping with rough edges.

Ellis II fractures involve enamel and dentin; patients may complain of pain to touch and sensitivity to air. A pale yellow exposure of the dentinal processes, which communicates directly with the pulp, can occur. Patients younger than 12 years have immature teeth with much less dentin spanning the space between the pulp and enamel. The chance of infection and damage to the pulp in this age group is much greater because of larger pulp size and shorter dentin distance the infection has to traverse. [2]

Ellis III fractures involve enamel, dentin, and pulp; patients complain of pain with manipulation, air, and temperature. Pinkish or reddish markings around surrounding dentin or blood in the center of the tooth from the exposed pulp may present.

Root fractures are clinically difficult to diagnose; patients may notice abnormal mobility and sensitivity to percussion of the tooth.

Dentoalveolar fractures may cause patients to complain of malocclusion and mobility with findings of a mobile group of teeth.
Physical
See the list below:
Inspection

Evaluate surrounding soft tissue area for laceration, discoloration, ecchymosis, and embedded foreign bodies (eg, chipped teeth).

Evaluate teeth for fractures, chips, and other deformities. Embedded tooth fragments may lead to chronic infection or fibrosis.

Palpation

Evaluate if the tooth is mobile or if an entire segment is mobile.

If possible, have the patient bite down to further localize suspect area.

Percussion and sensitivity

Percuss with tongue blade to evaluate sensitivity.

Assess sensitivity to air and hot and cold solutions.

Percussion is necessary when an impact trauma with no fractures or displacement is involved. In apparently undamaged teeth, the neurovascular bundle that enters through the apical canal may have been damaged. The resulting damage can lead to pulp degeneration. These teeth are often sensitive to percussion.
Causes
See the list below:
Motor vehicle collisions (10.8%)
DDx
Differential Diagnoses
Dental, Avulsed Tooth

Dental, Displaced Tooth

Dental, Infections
TREATMENT & MANAGEMENT
Emergency Department Care
Provide adequate pain management and tetanus vaccination, and ensure proper follow-up care.
Ellis I fracture: Smooth rough corners with a dental drill or an emery board.

Treatment of fractures contained solely within the enamel alone requires no urgent care. The tooth can be repaired cosmetically at the convenience of the patient

Ellis II fracture: Cover exposed dentin with a layer of zinc oxide or calcium hydroxide paste (Dycal).

Dycal requires the tooth to be absolutely dry for adherence. Cover the tooth with a small piece of dental or aluminum foil. Exposure to humidity increases the rate at which the Dycal will set.

In patients younger than 12 years, coverage is especially important to prevent infection.

Ellis III fracture: Cover exposed dentin with a layer of zinc oxide or calcium hydroxide. Bleeding and moisture with this type of fracture usually makes it more difficult for these materials to adhere to the tooth. Cover with dental foil and expediently refer the patient to a dentist.

Root and dentoalveolar fractures require splinting by a dentist for several weeks.

Bone wax (Ethicon), which is a combination of beeswax and isopropyl palmitate, is not recommended for open dental fractures because it can cause inflammatory reactions of the surrounding soft tissues (eg, pulp).
Consultations
See the list below:
Consult a dental or oral maxillofacial surgeon.

Depending on the extent of the fracture, the dentist may do perform a root canal with calcium hydroxide followed by a gutta-percha filling or a partial pulpotomy
MEDICATION
Medication Summary
Drugs used to treat dental fractures are generally nonsteroidal anti-inflammatory drugs (NSAIDs), analgesics, anxiolytics, and proper antibiotics.
Antibiotics
Class Summary
Therapy must cover all likely pathogens in the context of the clinical setting. Current recommendations by the American Heart Association 2007 for dental, oral, respiratory tract, or esophageal procedures, indicate prophylaxis if the patient has one of the following conditions: [5]
- Prosthetic cardiac valve
- Previous infective endocarditis
- Congenital heart disease (CHD)
- Unrepaired cyanotic CHD, including palliative shunts and conduits
- Completely repaired congenital heart defect with prosthetic material or device, whether placed by surgery or by catheter intervention, during the first 6 months after the procedure
- Repaired CHD with residual defects at the site or adjacent to the site of a prosthetic patch or prosthetic device (which inhibit endothelialization)
- Cardiac transplantation recipients who develop cardiac valvulopathy
Penicillin VK (Veetids)
Inhibits biosynthesis of cell wall mucopeptide and is effective during active replication. Inadequate concentrations may produce only bacteriostatic effects.
Erythromycin (EES, E-Mycin, Ery-Tab)
An alternative for patients allergic to penicillin. Because of possible GI irritation, advise patients to take this medication with food or milk if GI upset is noted.
Amoxicillin (Amoxil, Polymox, Trimox)
Interferes with the synthesis of cell wall mucopeptide during active replication, resulting in a bactericidal activity against susceptible bacteria.
Analgesics
Class Summary
Pain control is essential to quality patient care. Analgesics ensure patient comfort, promote pulmonary toilet, and enable physical therapy regimens. Many analgesics have sedating properties that benefit patients in pain.
Fentanyl citrate (Duragesic, Sublimaze)
A more potent narcotic analgesic with a much shorter half-life than morphine sulfate. DOC for conscious sedation analgesia.
With short duration (30-60 min) that is easy to titrate, an excellent choice for pain management and sedation. Easily and quickly reversed by naloxone.
After the initial dose, do not titrate subsequent doses more frequently than q3h or q6h thereafter.
Meperidine (Demerol)
Narcotic analgesic with multiple actions similar to those of morphine. May produce less constipation, smooth muscle spasm, and depression of the cough reflex than similar analgesic doses of morphine.
Oxycodone and acetaminophen (Percocet)
Drug combination indicated for relief of moderate to severe pain. DOC for patients who are hypersensitive to aspirin.
Hydrocodone bitartrate and acetaminophen (Vicodin ES)
Drug combination indicated for relief of moderate to severe pain.
Acetaminophen (Tylenol, Panadol, Aspirin Free Anacin)
DOC for the treatment of pain in patients with documented hypersensitivity to aspirin or NSAIDs, in those with upper GI disease, or in those who are taking oral anticoagulants.